Our sealer is colorless transparent liquid material, easy to use, non toxic, non-flammable, strong penetration, can permanently seal concrete, contains zero % VOC content, tested by US Department of Agriculture USDA.
The product is widely used in industrial floors, electronics, medicine workshop, supermarket, parking, food production base, runways, roads, bridges etc.
The hardening and dust-proof effects of the sealer is perceive after a few hours of application, while the sealing process will continue after 1-12 months application. After It has completely sealed, the surface illustriousness, impermeability and other properties will be greatly enhanced.
How we apply it?
The sealant can be applied on the raw cement/concrete, such as bridge, road, walkway etc, it can also been applied on the polished floor to have the shining surface as shown in the pictures below.
Usually after a cement / concrete floor has been installed, it is still not smooth yet unless you go for super flat floor installation. Even super flat floor installation will use the same type of hardener and cement treatment to densify the flooring. After the floor installation and the floor is dry, grinding services needed to grind the surface to smooth the surface. We will use a few grit to grind the floor until 1000, or 3000 grit depends on the floor, then apply the sealant and polishing it. After polishing, it will present the shinny appearance.
Call 012-679 2926 for Details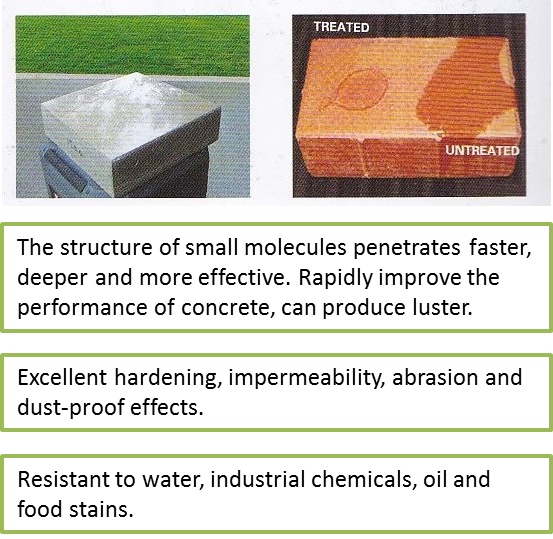 Project with Chem Sealer- Before and after
Contact us with the form below. Let us call you back.